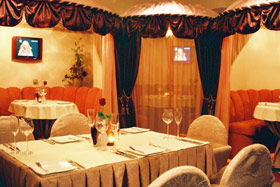 Restaurant "Delice"
- this upscale restaurant of French cuisine with 70 seats. The works of our chef-virtuoso satisfy even the most demanding palates. For connoisseurs of local dishes - Ukrainian page. The pleasure of eating increase interior room, done with impeccable taste. For those wishing to retire to the
restaurant "Delice"
there are some two- and four rooms with individual TVs. For coffee breaks and business lunches, cocktail parties, mass celebrations we have a banquet hall for 70 people. The most attractive "Delice" appears in the warmer months. Our sum...
Delice Hotel located in the heart of the Striysky park, the biggest and most famous in the city of Lviv. It offers modern comfortable rooms. Gourmet delight interior refinement and good taste of French cuisine in restaurant Delice.